Serving Up Kindness: Mother Marianne's West Side Kitchen
We come together in times of need, we help others when we can, and we welcome all with open arms. These are some of the key ingredients served up by Mother Marianne's West Side Kitchen, a soup kitchen located at the corner of Columbia and Varick Street in Utica.
Category: Human Services
Fall 2020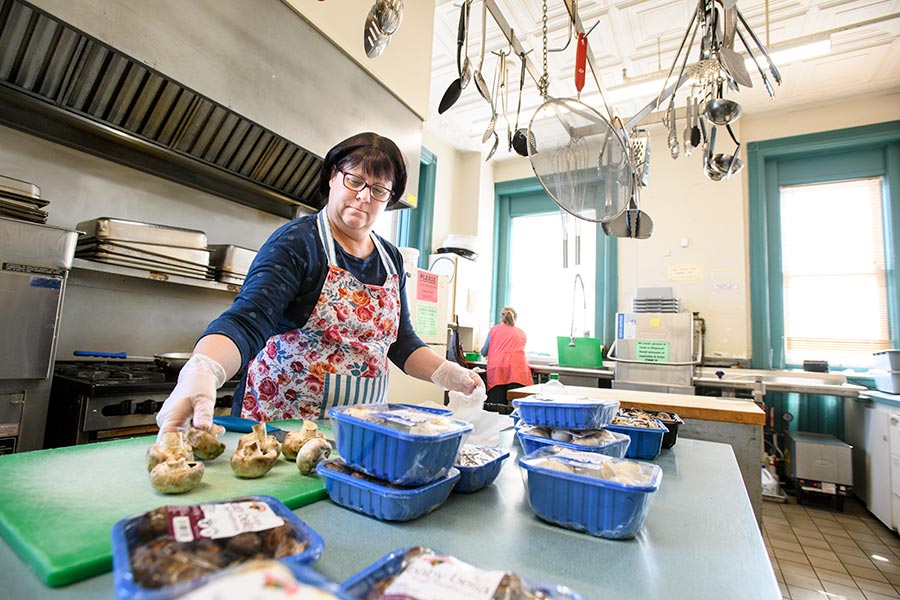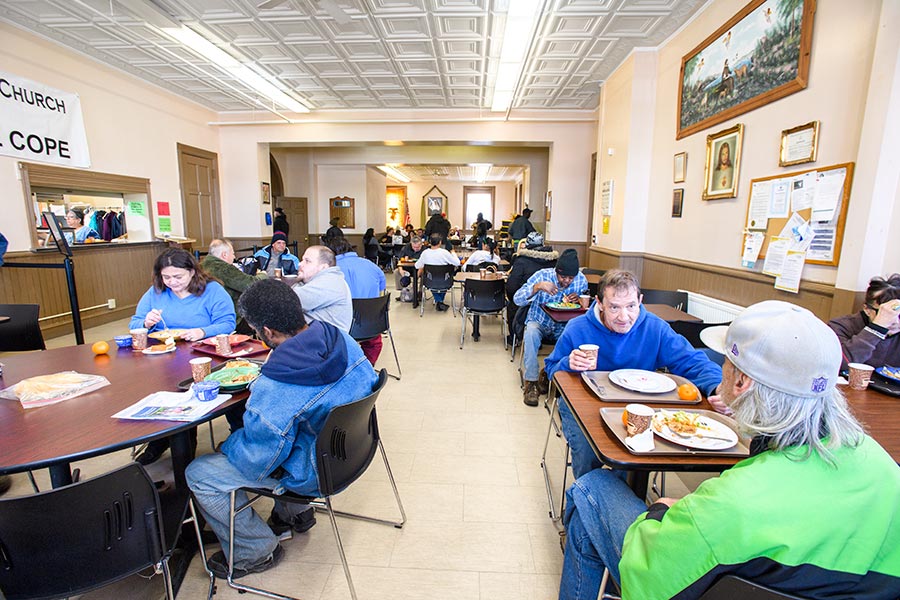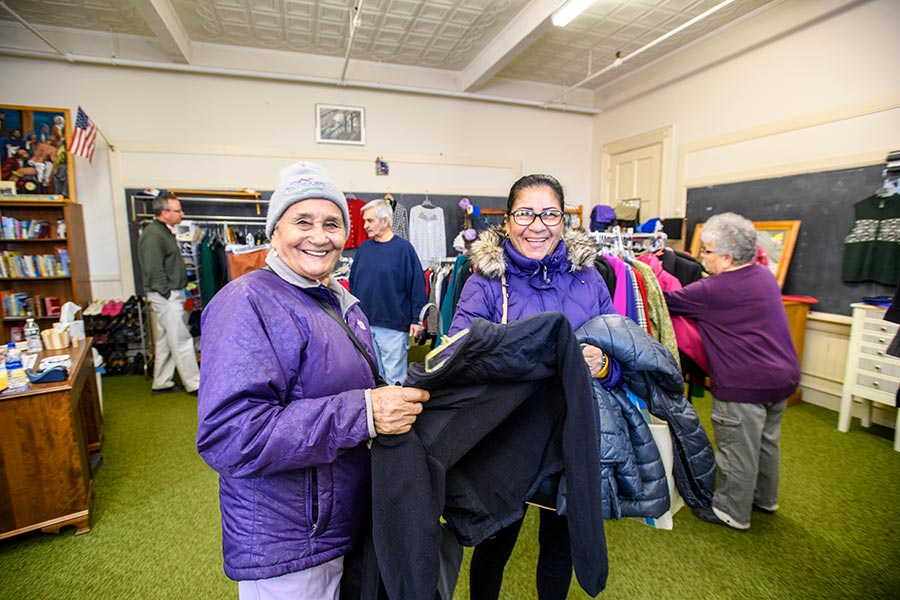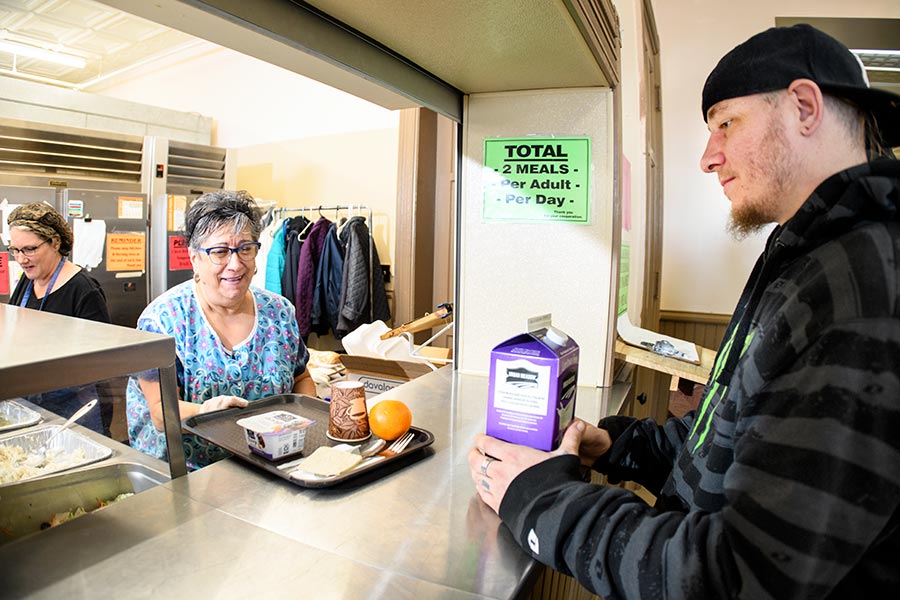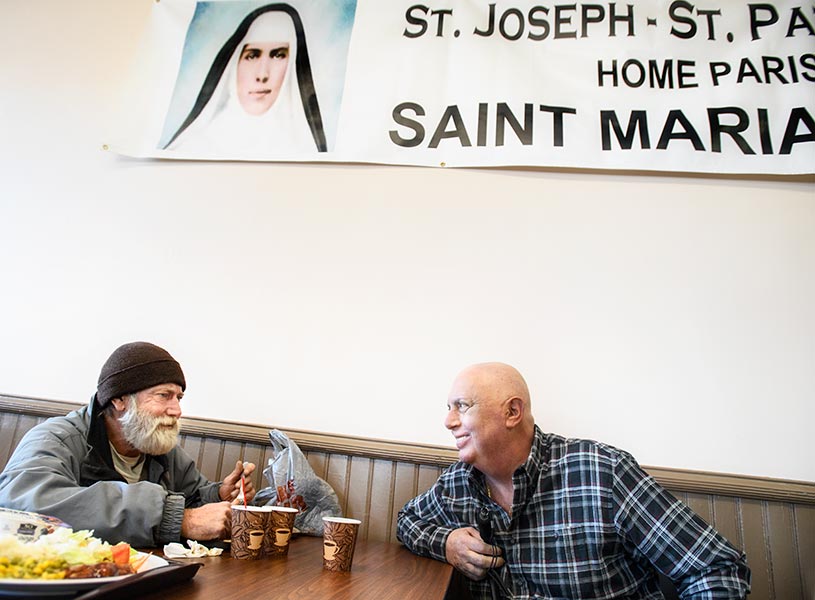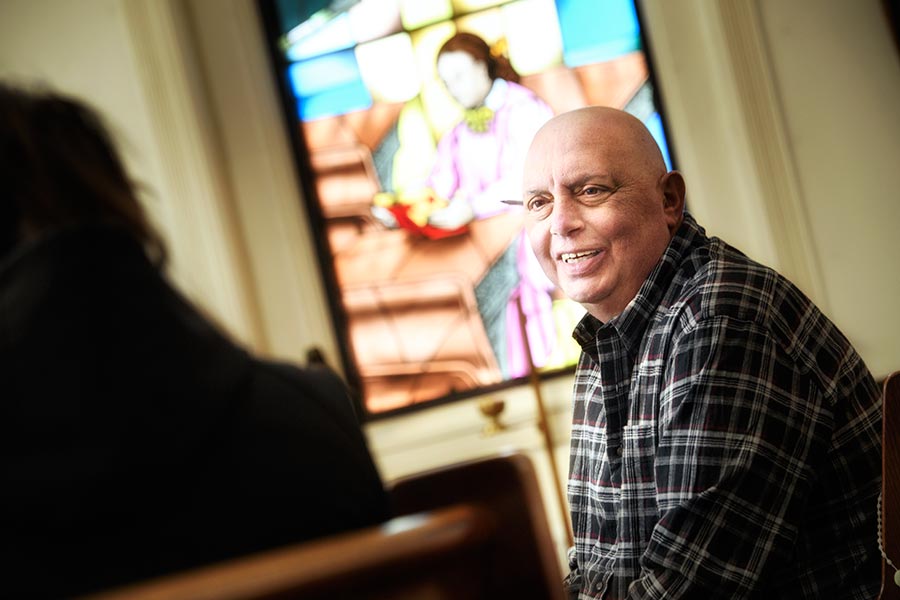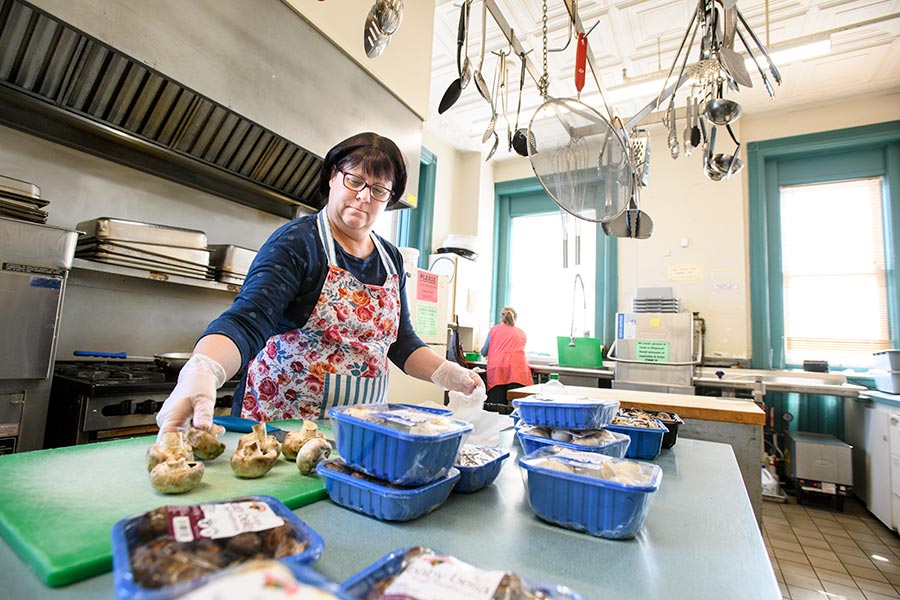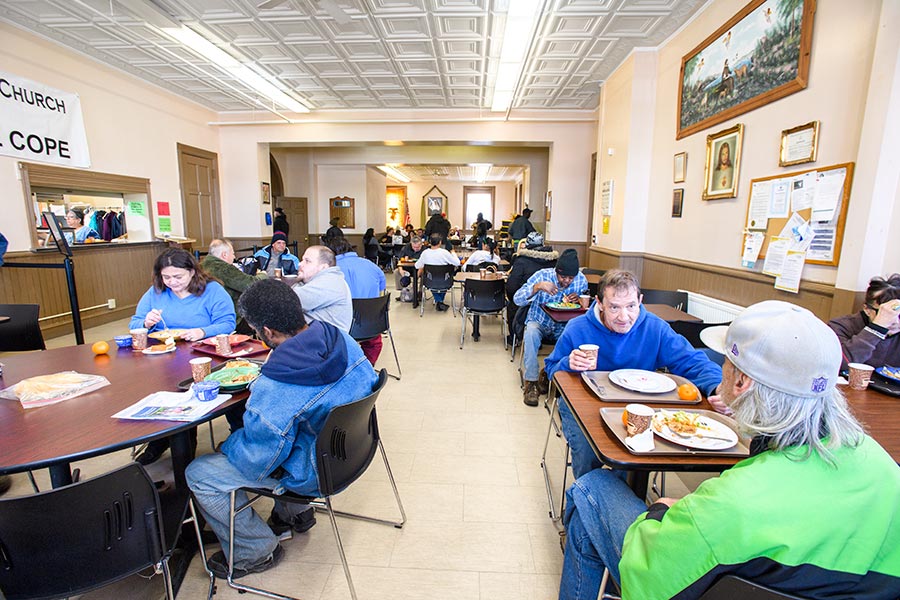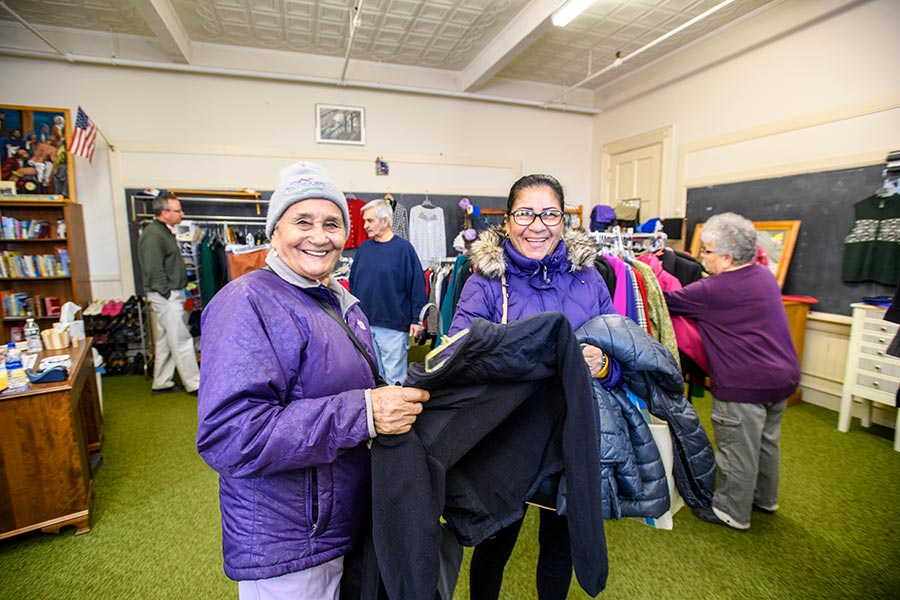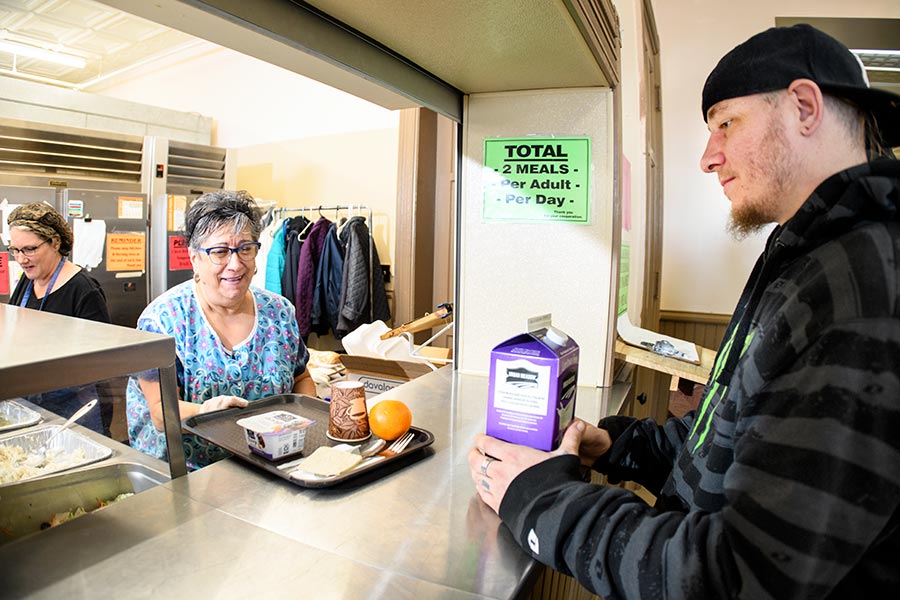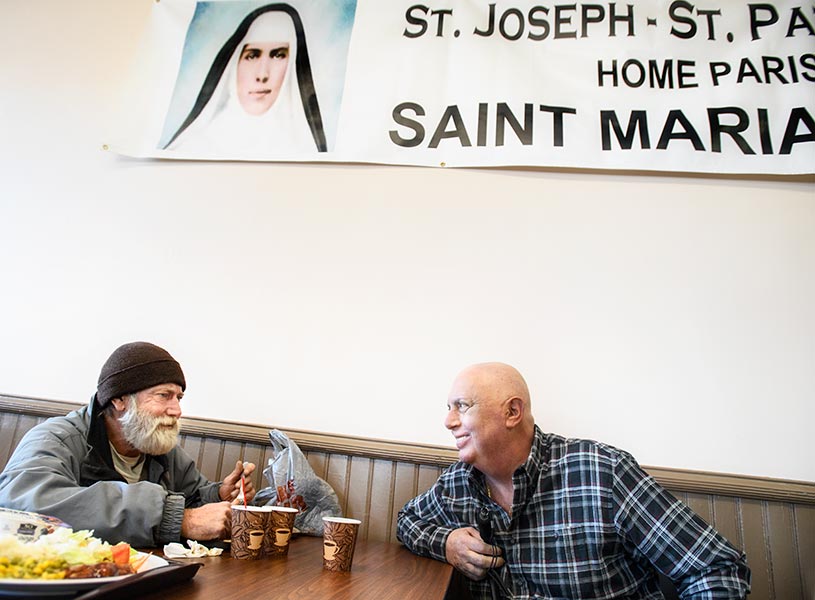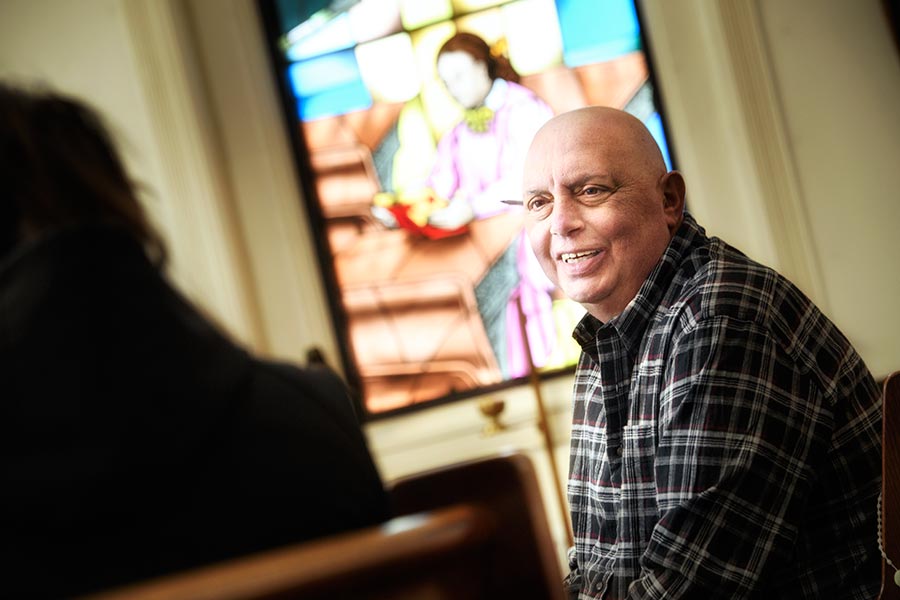 The word community is often thought of as a group of people who live in the same place or area. Just as important, is the definition describing community as a friendship between different people or groups, and a sense of having something in common. The two go hand in hand. We are fortunate to live in a place where our community embraces these descriptions—we come together in times of need, we help others when we can, and we welcome all with open arms. These are some of the key ingredients served up by Mother Marianne's West Side Kitchen, a soup kitchen located at the corner of Columbia and Varick Street in Utica.
Opening its doors in 2008, Mother Marianne's was started by Deacon Gilbert (Gil) Nadeau of St. Joseph & St. Patrick Church. The need to implement hospitality services came after numerous repeated requests from patrons and local neighbors for food, clothing and assistance. What started as a small effort that served soup and peanut butter and jelly sandwiches just a couple days a week, has grown tremendously to an operation serving more than 55,000 meals a year to those in need, along with providing other important services.
The soup kitchen was named after Saint Marianne Cope, who grew up in the Parish and left her mark as a pioneer of healthcare in the area, assisting at St. Elizabeth's Hospital in Utica and St. Joseph's Hospital in Syracuse. Before being canonized as a Saint, Mother Marianne spent the last 30 years of her life caring for leprosy patients in Hawaii.
From the very beginning, the organization has been all-volunteer run, providing a full meal service during lunch hour on weekdays, and bagged lunches on Saturdays and Sundays. Its success and ability to run at full capacity everyday can be attributed to its dedicated volunteer staff and Board, and of course its supportive donors.
"I would say we have about 45 volunteers," said Ed Morgan, kitchen director at Mother Marianne's. "I couldn't do what I do without them, the place just couldn't run—we have the best volunteers ever."
Donations to the kitchen come in many forms, whether it be a grant from The Community Foundation, food contributions from area restaurants and stores, or individuals who drop off non-perishables or cash to help the organization run.
"Our busiest months happen to be our slowest fundraising months, but we manage to do it every year. This place kind of manifests what it needs. Some days, we don't have any cakes to put out for dessert, next thing you know someone walks in the door with six sheet cakes—it happens an awful lot."
Reflecting on one of the best donations he's received, Ed recalls, "A guy walked in, he had the dirtiest, crinkliest two dollars I'd ever seen in my life and he says 'Hey, I want to give this to you, you help me out a lot.' That two dollars means so much more than you can even imagine."
Nurturing an environment that feels like home and family, volunteers of the organization are not just there to prepare and serve the meals. They've made it a point to form friendships with the patrons, making it a comfortable and welcoming space for visitors. Furthermore, when you walk into the soup kitchen during a bustling lunch hour, you see strangers from all walks of life sitting together, sharing in good conversation and laughter over a warm meal. It's almost as if these people have known each other their whole lives.
"It's not just about feeding people, it's about making them feel comfortable and being the place they want to come—somewhere where everybody knows them. We try to make everybody feel like somebody and in their day-to-day life they don't get that, they don't have a lot of people looking out for them."
In addition to the meal services, Mother Marianne's also provides monthly health screenings from local physicians, haircuts on the first Monday of the month, informative appointments with insurance companies, and a store called the "West Side Boutique" filled with free clothing, toiletries, toys and more. The boutique started off as a small spot in the basement, but quickly grew to fill a large classroom on the upper level of the building. Started by one of the kitchen volunteers, Nancy Robert, the store was her way of "doing something more."
Among one of the first grants Mother Marianne's ever received, The Community Foundation helped procure a walk-in freezer when the organization first started out, and since then, have awarded more than $60,000 for various projects and needs.
In 2018, the soup kitchen was the winner of the Community Choice Awards in the Human Services category. It won $10,000 to assist with opening a service window between the kitchen and dining room to improve access to meals and alleviate problems with overcrowding. Ed called the new service window "the best thing that ever happened to us," stating that "this place wouldn't be what it is today without The Community Foundation."
Community Foundation Donor Relations Manager, Lindsey Costello, spoke on her love for Mother Marianne's, stating "I grew up in the neighborhood and my family used to walk to St. Joseph & St. Patrick Church every Sunday. Ed, the Board and all of volunteers are truly silent heroes that provide for some of the neediest people in our city and are always looking out for others—they are doing God's work."
A dash of goodwill, a pinch of respect and a splash of compassion is just what this world needs right now. Mother Marianne's is a shining example of how a little kindness can go a long way, and what true blessings surround us in our community. Continuing to live by its motto, "to treat everyone special because everybody who comes here is somebody," is a life lesson that we all can—and should—take something away from.