Overview
The HFA Fund was created in 2016 and now provides grants to EMS, Fire and Law Enforcement Agencies supporting equipment, training and education needs. Hero Fund America presents two annual fundraising events, Run 4 the Hills for First Responders (held in October in Sharon Springs, NY) and the Hero Fund America Tour for First Responders (held in June).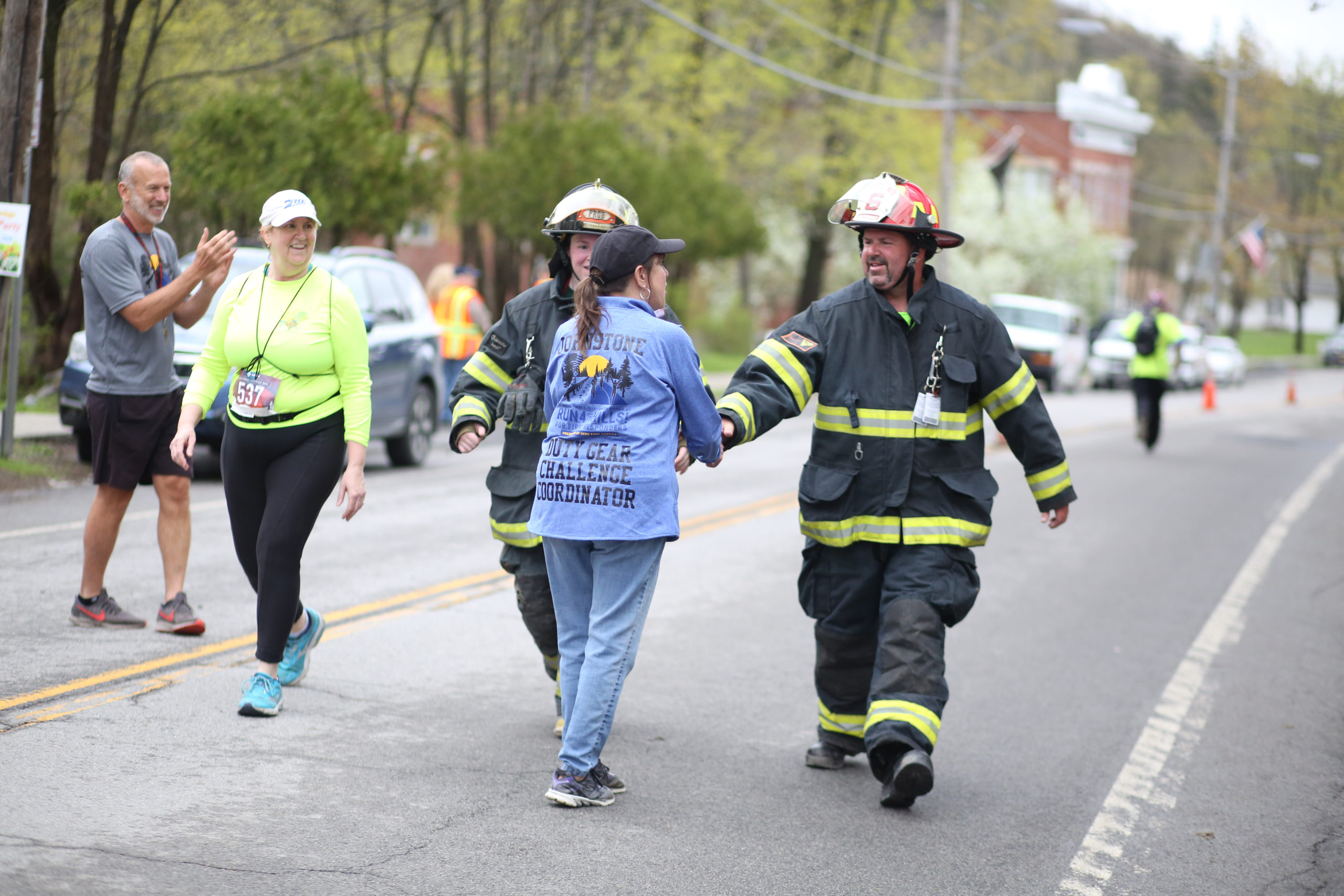 Grant Information
The Hero Fund America Fund was created in partnership with Hero Fund America, Inc. The fund provides grants to benefit the education, training, life-saving equipment and mental health needs of first responders.
The application window for the 2022 grant round has ended. Please check back for updates.
The Hero Fund America Fund supports projects and programs that meet the following criteria:
---
Program or project will directly support the education, training, life-saving equipment or mental health needs of first responders

Funding requests may not exceed $2,000 in a calendar year

All grant funds will be used for direct program expenses

Recipient must be an eligible 501(c)(3) or government entity
Grant History
Date
City
State
Recipient
Amount
Description
07/27/2022
Addison
IL
Addison Fire Protection District
$800.00
For education and training for first responders
07/27/2022
Aitkin
MN
Aitkin County Search and Rescue Volunteers
$1,000.00
For education and training for first responders
07/27/2022
Amsterdam
NY
Canajoharie Police Department
$1,000.00
For education and training for first responders
07/27/2022
Fulton
NY
City of Fulton Fire Department
$1,000.00
For education and training for first responders
07/27/2022
Cuba
MO
Cuba Community Fire Protection District
$1,000.00
For education and training for first responders
07/27/2022
Englewood
TN
Englewood Rural Fire Department
$400.00
For education and training for first responders
07/27/2022
Shamong
NY
Indian Mills Volunteer Fire Company
$500.00
For education and training for first responders
07/27/2022
Iowa Falls
IA
Iowa Falls Fire & EMS
$561.00
For education and training for first responders
07/27/2022
Medford
OK
Medford Police Department
$1,000.00
For education and training for first responders
07/27/2022
Middleburgh
NY
Middleburgh Emergency Volunteer Ambulance Corps Inc.
$800.00
For education and training for first responders
07/27/2022
Decatur
MS
Newton County Sheriff Department
$700.00
For education and training for first responders
07/27/2022
Old Forge
NY
Old Forge Volunteer Ambulance Corps, Inc
$1,000.00
For education and training for first responders
07/27/2022
Clearwater
FL
Peacekeeper Initiative, Inc
$500.00
For education and training for first responders
07/27/2022
Wayland
NY
Springwater-Wayland EMS
$1,000.00
For education and training for first responders
07/27/2022
Herkimer
NY
Herkimer Village Police Department
$1,200.00
For education and training for first responders
07/27/2022
Westmoreland
NY
Westmoreland Volunteer Fire
$800.00
For education and training for first responders
07/27/2022
New Hartford
NY
Willowvale Fire Company
$1,000.00
For education and training for first responders
07/27/2022
Schoharie
NY
Wright Fire District
$810.00
For education and training for first responders
08/25/2021
Junction City
KS
City of Junction City
$1,000.00
For education and training for first responders
08/04/2021
Fort Plain
NY
South Minden Volunteer Fire Department
$1,000.00
For education and training for first responders
07/27/2021
Kansas City
MO
Code 1 Wellness
$500.00
For education and training for first responders
07/27/2021
Aitkin
MN
South Aitkin First Responders, Inc.
$1,000.00
For education and training for first responders
07/27/2021
Granville
NY
Granville Engine and Hose Co. #1, Inc.
$1,000.00
For education and training for first responders
07/27/2021
Maple Grove
MN
Furos, Inc.
$1,000.00
For education and training for first responders
07/27/2021
Carmel
NY
Guardian Revival, Inc.
$500.00
For education and training for first responders
07/27/2021
Platteville
WI
Platteville Fire Department, Inc.
$1,000.00
For education and training for first responders
07/23/2021
Clinton
NY
Central Oneida County Volunteer Ambulance Corps
$1,000.00
For education and training for first responders
07/23/2021
Tallulah
LA
City of Tallulah
$1,000.00
For education and training for first responders
07/23/2021
Richmondville
NY
Richmondville Volunteer Emergency Squad, Inc.
$1,000.00
For education and training for first responders
04/15/2020
Utica
NY
Deerfield Volunteer Fire Company Inc.
$1,000.00
General support for first responders during the Coronavirus pandemic
04/15/2020
Westmoreland
NY
Westmoreland Volunteer Fire Dept. Inc.
$1,000.00
General support for first responders during the Coronavirus pandemic
04/14/2020
Eagle Bay
NY
Big Moose Ambulance Company
$1,000.00
General support for first responders during the Coronavirus pandemic
04/14/2020
Cobleskill
NY
Cobleskill Rescue Squad Inc.
$1,000.00
General support for first responders during the Coronavirus pandemic
04/14/2020
Rome
NY
Floyd Volunteer Fire Department
$1,000.00
General support for first responders during the Coronavirus pandemic
04/14/2020
Frankfort
NY
Frankfort Hill Volunteer Fire Co Inc.
$1,000.00
General support for first responders during the Coronavirus pandemic
04/14/2020
Ilion
NY
Ilion Volunteer Fire Department Inc.
$1,000.00
General support for first responders during the Coronavirus pandemic
04/14/2020
Rome
NY
Lake Delta Volunteer Fire Dept Inc.
$1,000.00
General support for first responders during the Coronavirus pandemic
04/14/2020
Marcy
NY
Maynard Volunteer Fire Department
$1,000.00
General support for first responders during the Coronavirus pandemic
04/14/2020
Middleburgh
NY
Middleburgh Emergency Volunteer Ambulance Corps Inc.
$1,000.00
General support for first responders during the Coronavirus pandemic
04/14/2020
New York Mills
NY
New York Mills Volunteer Fire Company Inc.
$1,000.00
General support for first responders during the Coronavirus pandemic
04/14/2020
Old Forge
NY
Old Forge Volunteer Fire Department Inc.
$1,000.00
General support for first responders during the Coronavirus pandemic
04/14/2020
Richmondville
NY
Richmondville Volunteer Emergency Squad Inc.
$1,000.00
General support for first responders during the Coronavirus pandemic
04/14/2020
Sauquoit
NY
Sauquoit Volunteer Fire Company
$1,000.00
General support for first responders during the Coronavirus pandemic
04/14/2020
Sherrill
NY
Sherrill Kenwood Volunteer Fire Department Inc.
$1,000.00
General support for first responders during the Coronavirus pandemic
03/23/2020
Mohawk
NY
Mohawk Valley Ambulance Corps Inc.
$1,000.00
General support for first responders during the Coronavirus pandemic
03/22/2020
Schoharie
NY
Scho-Wright Ambulance Services Inc.
$1,000.00
General support for first responders during the Coronavirus pandemic
03/21/2020
Clinton
NY
Central Oneida County Volunteer Ambulance Corps
$1,000.00
General support for first responders during the Coronavirus pandemic
10/03/2019
Newberry
FL
City of Newberry Fire Department
$500.00
Advanced EMS training, fire operations and tactical training
10/03/2019
Forestport
NY
Otter Lake Fire Department
$1,000.00
Education and training for first responders
10/03/2019
Fort Plain
NY
South Minden Volunteer Fire Department
$500.00
Communication equipment and reflective gear
11/01/2018
Sharon Springs
NY
Sharon Springs Joint Fire District
$500.00
Purchase CPR and first aid training, TOT finder window stickers and handwarmers
11/01/2018
Baton Rouge
LA
Southern University Police Department
$500.00
Purchase 13 first aid kits for the patrol units
10/09/2018
Schoharie
NY
Niagara Engine Company No 6
$500.00
Purchase new pair of vehicle stabilization tools
10/05/2018
Morrisville
MO
Global Rescue Systems
$500.00
Education and training for first responders
12/08/2017
Calverack
NY
Global Rescue Systems
$200.00
General Support
Grand Total $47,271.00